We're sorry, but all tickets sales have ended because the event is expired.
Thunder Road


June 27, 2019




7:30 pm - 9:00 pm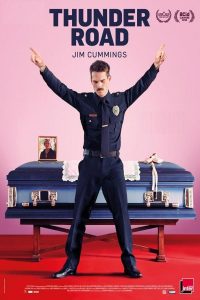 Thursday June 27
7:30pm
Doors open at 7pm
$7
~~~~~~~~~~~~~~~~~~~~~~~~~
Officer Jim Arnaud is a good man. He struggles with relationships and anger issues, but he's just trying to do right by those he cares about, especially his daughter Crystal. He's dealing with grief—he recently lost his mom—and that's a thing that can really rattle a person, changing the way they look at and deal with the world around them. Jim belittles his own intelligence on occasion—he's the kind of guy who tries to turn his own shortcomings into a joke so as not to be ashamed of them—and he doesn't really have the intellectual or emotional tools to deal with this chapter in his life, one in which he lost his mom and might lose his daughter. He breaks into tears more than once, and goes on rambling, kinda scary monologues. He's a fascinating cinematic creation and a pronouncement of a major talent in Jim Cummings, the star, writer, and director of the SXSW Grand Jury winner, "Thunder Road."
Cummings' feature debut is an expansion of his award-winning short of the same name, and it opens with a slightly revised version of that short film. In an unbroken shot, we zoom in on Jim as he gives a heartfelt, rambling, unfocused eulogy at his mom's funeral. The original ended with an interpretative dance to the Bruce Springsteen classic from which it gets its name. The feature probably couldn't afford the rights (but finds a clever way to land even more effectively). Jim's daughter Crystal (Kendal Farr) and his soon-to-be-ex-wife Rosalind (Jocelyn DeBoer) are at the funeral, and Cummings captures that deft balance of concern and pity when you watch someone have a public breakdown. Jim will have more than one.
The film that follows reflects Cummings' background as a shorts director in that it's very episodic, arguably containing a few variations on the original "Thunder Road" as Jim loses his cool in key moments, including a courtroom and the parking lot of his police department. But there's a loose, amiable, likable energy that unites these moments, and Cummings' work as a filmmaker in the connective tissue is arguably even better, such as a great late scene when a friend pulls him out of one of his deepest holes.
Most of all, Jim is unforgettable as a character. Cummings could have easily turned him into a caricature—it's not hard to think of the Adam Sandler variation of a cop who cries a lot—but the filmmaker grounds him and makes his issues understandable and fully realized. Cummings is an Austin filmmaker, and the best parts of "Thunder Road" have that low-key, character-driven energy that defined the early films of one of the Kings of Austin, Richard Linklater. We come to root for Arnaud. We want him to get his daughter back and find happiness.
Address:
8 E. Main St.
,
Cortez
,
Colorado
,
81321
,
United States
Description:

Located in the historic Basin Industrial Bank building adjacent to the KSJD radio studios in downtown Cortez, Colorado.