We're sorry, but all tickets sales have ended because the event is expired.
The Martian Chronicles: A Live Radio Series


March 1, 2019 - March 3, 2019




7:00 pm - 9:00 pm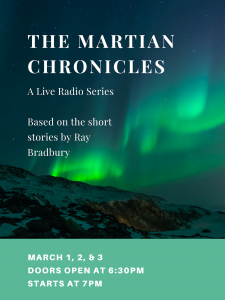 Tickets:
$15 online per night
$30 online for all three nights
$18 at the door per night
~~~~~~~~~~~~~~~~~~~~~~~~~~~~~~~~~~
Have you ever gotten fed up with the world? Have you ever wished you could move to a new country—or, say, a new planet—where you could start from scratch, build a new world, and leave Earth fighting and wars behind?  Who hasn't?
The Martian Chronicles isn't interested in scientific issues like, "How will travelers survive the trip to Mars?" or, "Once there, how will we breathe?" Instead, Ray Bradbury is interested in human issues and values—and specifically American ones.
The Martian Chronicles isn't really about Mars. It's about racial prejudice, colonization, the devastation of war, the struggle between men and women, and, most of all, the triumph of the human spirit. So, 1999, 2026, or 2167: it doesn't really matter. The triumphs and struggles are as timeless as when the book was first published in 1950.
In this adaptation, seek to retain the integrity of Bradbury's work while translating it to fit the mediums of both radio and stage in a three part performance.  This performance will be performed live in the theatre and broadcast live on KSJD and ksjd.org over three consecutive nights. It is a multi-media performance, with the readers performing the text, the musicians performing Delbert Anderson's original score, and foley technicians creating the sound effects, while also featuring beautiful original illustrations by James Ayers to create a visual representation of the Mars of Bradbury's imagination.
Adapted and Directed by Desiree Henderson
Original Music Compositions by Delbert Anderson
Original Illustrations by James Ayers
Readers
Heidi Brugger
Joe Butterfield
Lydia DeHaven
Sophia Dickey
Pete DuMont
Frank Harrison
Terri Helm
Jodi Jahrling
Mike Just
Mark Lawrence
Paul Linhoff
Tom McIntosh
Amanda McNeill
Herbert Petley
Garrett Riggs
Alex York
Musicians
Louis Gonzales
Jared Kaime
Tyler Kaime
Sam Lyons
Adam Yoder
Foley Technicians
Heidi Brugger
Elizabeth Dickey
Frank Harrison
Jodi Jahrling
Sam Lyons
Address:
8 E. Main St.
,
Cortez
,
Colorado
,
81321
,
United States
Description:

Located in the historic Basin Industrial Bank building adjacent to the KSJD radio studios in downtown Cortez, Colorado.