The Lay of The Land ~ Nov 28


November 28, 2018




7:00 pm - 7:15 pm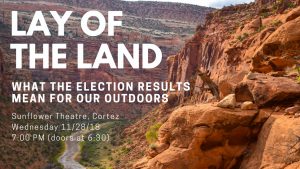 Hosted by Conservation Colorado
Wednesday November 28
Doors open at 6:30pm / Starts at 7pm
Free
~~~~~~~~~~~~~~~~~~~~~~~~~~~
Join us for an informative discussion as we take a deep dive into the current "lay of the land" of the new opportunities and threats as a result of the 2018 elections. Please come early to have some food and get a beverage before we start, and come with your questions!
Confirmed panelists include:
— Scott Braden, Public Lands Advocate, Conservation Colorado
— Sam Mix, Osprey Packs
— MB McAfee, former candidate for Montezuma County Commissioner
-Regina Lopez-Whiteskunk, former councilwoman of the Ute Mountain Ute Tribe and former co-chair of the Bears Ears Inter-Tribal Coalition
SPONSOR: Osprey Packs
Heavy appetizers donated by The Farm Bistro, The Pie Maker, and Stonefish Sushi.
ABOUT CONSERVATION COLORADO:
Our mission is to protect Colorado's environment and quality of life by mobilizing people and electing conservation-minded policymakers.
Protecting our environment means preserving what we love about Colorado. Our stunning mountains, open vistas, and rushing rivers inspire us and connect us to the majesty of nature. Unfortunately, our amazing state faces grave threats. Powerful interests are constantly pushing to put pollution and profit over public health. We are at the front lines of every fight working to protect the air, land, water, and people across our state.
For over 50 years, we've worked with communities statewide to ensure that our quality of life and our environment are protected. We work to elect pro-conservation leaders to public office and then hold our decision makers accountable to move Colorado forward in protecting our environment.
Forged from the history and accomplishments of the Colorado Environmental Coalition and Colorado Conservation Voters, Conservation Colorado is the next chapter in protecting Colorado's natural heritage.
Address:
8 E. Main St.
,
Cortez
,
Colorado
,
81321
,
United States
Description:

Located in the historic Basin Industrial Bank building adjacent to the KSJD radio studios in downtown Cortez, Colorado.