We're sorry, but all tickets sales have ended because the event is expired.
The Florida Project - July 19, 7pm


July 19, 2018




7:00 pm - 9:00 pm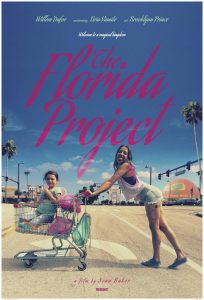 Thursday July 19
Movie starts at 7pm
Doors open at 6:15pm
$7 online / at the door
~~~~~~~~~~~~~~~~~~~~~~~~~~~~
Written by
Sean Baker & Chris Bergoch
 Starring
Willem Dafoe, Brooklynn Prince, Valeria Cotto and Bria Vinaite

Warm, winning, and gloriously alive, Sean Baker's The Florida Project is a deeply moving and unforgettably poignant look at childhood.
Set on a stretch of highway just outside the imagined utopia of Disney World, The Florida Project follows six-year-old Moonee (Brooklynn Prince in a stunning breakout turn) and her rebellious mother Halley (Bria Vinaite, another major discovery) over the course of a single summer. The two live week to week at "The Magic Castle," a budget motel managed by Bobby (a career-best Willem Dafoe), whose stern exterior hides a deep reservoir of kindness and compassion.

Despite her harsh surroundings, the precocious and ebullient Moonee has no trouble making each day a celebration of life, her endless afternoons overflowing with mischief and grand adventure as she and her ragtag playmates—including Jancey, a new arrival to the area who quickly becomes Moonee's best friend—fearlessly explore the utterly unique world into which they've been thrown. Unbeknownst to Moonee, however, her delicate fantasy is supported by the toil and sacrifice of Halley, who is forced to explore increasingly dangerous possibilities in order to provide for her daughter.
~~~~~~~~~~~~~~~~~~~~~~~
Screening before The Florida Project: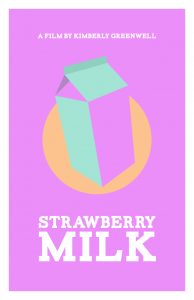 A single father must figure out how to support his adolescent daughter when she discovers
she's having her first period.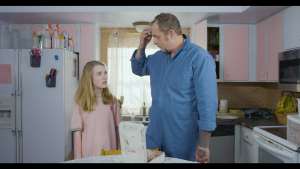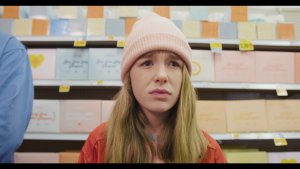 Kimberly Greenwell is a Colorado native who began making films in high school at
Denver School of the Arts. She spent many years working as a film mentor in youth film
programs such as The Binning Family Foundation and The Denver Film Society's Young
Filmmakers Workshop. A recent graduate of the University of Colorado Denver, she is now
working as an editor and production coordinator at Torch – a Denver based media production
company.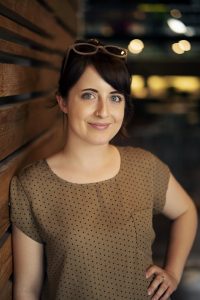 Director's Statement:
I wanted to make a film exploring the emotional nuance of the father-daughter relationship. In
my experience the love between a father and daughter is communicated with very few words,
but can still be extremely tangible. I think this is especially true when a father and daughter face
challenging situations together.
Cast:
Macy Friday (Macy)
Bobby Lee Black (Dale)
Karen Thomas (Macy's Mother)
Crew:
Assistant Director – Kylee Mitchell
Producer – Susana Ortega
Director of Photography – Ben Roland
Location Audio – Kelly Kramarik
Production Design – Carly Correia
Time: 5 minutes and 30 seconds
Address:
8 E. Main St.
,
Cortez
,
Colorado
,
81321
,
United States
Description:

Located in the historic Basin Industrial Bank building adjacent to the KSJD radio studios in downtown Cortez, Colorado.