We're sorry, but all tickets sales have ended because the event is expired.
The California Harvest Festival


November 15, 2017




8:00 pm - 11:00 pm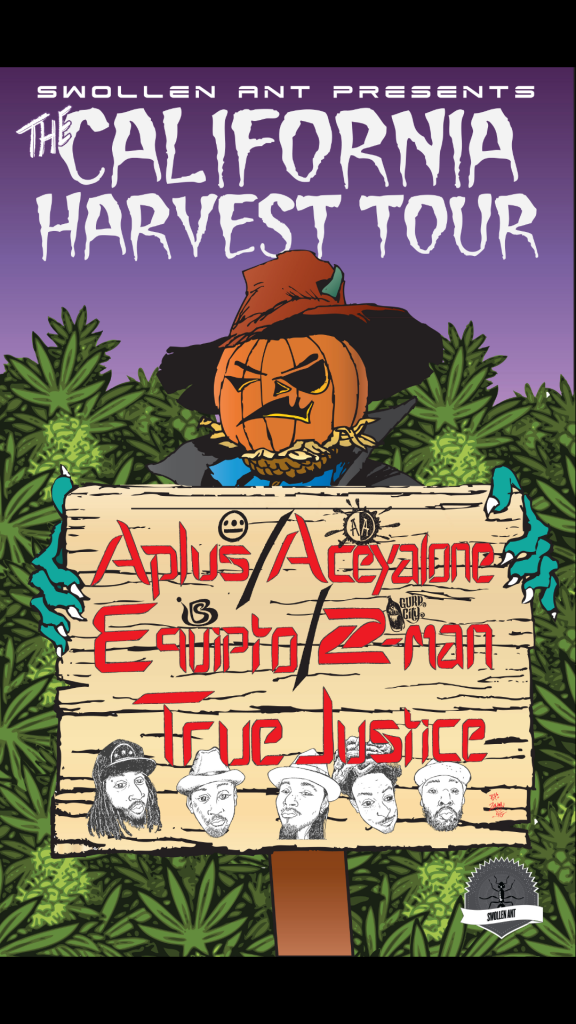 Wednesday November 15 – 8pm
doors open at 7:15pm
Tickets – $10 online, $10 at the door
____________________
A-Plus
Adam Carter, known by the stage name, A-Plus, is an American rapper and producer. He is one of the founding four members of the Oakland, California-based underground hip hop group Souls of Mischief, and, with Souls of Mischief, a part of the eight-person, alternative hip hop collective, the Hieroglyphics.
Aceyalone
A founding member of Freestyle Fellowship, Aceyalone played an important role in the evolution of left-field hip-hop on the West Coast during an era when hardcore gangsta rap reigned. Following the dissolution of Freestyle Fellowship, Aceyalone embarked on a solo career that never resulted in enormous success but did allow him to maintain his revered status within the West Coast underground hip-hop scene. He debuted solo on All Balls Don't Bounce (1995) and followed-up with A Book of Human Language (1998). After a three-year absence from the hip-hop scene, he returned in 2001 with Accepted Eclectic, an album released by the Ground Control label, which also re-released his debut album. A new label, Project Blowed, issued Hip Hop and the World We Live In (2002) and Love & Hate (2003), the latter featuring collaborations with El-P and Antipop Consortium. In 2004 Project Blowed secured the rights to All Balls Don't Bounce from Capitol and reissued it with a bonus disc, bringing not only extra music but reviving the album after many years out of print. In 2006, Aceyalone released Magnificent City, a collaboration with underground producer RJD2, as well as Grand Imperial, a limited-edition collection of remixes and other exclusive tracks. His 2007 album, Lightning Strikes, was inspired by reggae and dancehall music. It was produced by Bionik, who was also behind the boards for 2009's The Lonely Ones, an album influenced by Motown, soul, and doo wop. Bionik returned for 2013's Leanin' on Slick, another retro-minded album with Cee Lo Green as special guest.
Equipto
Equipto is a member of Bored Stiff, a hip hop group from San Francisco. He has collaborated with other artists such as Andre Nickatina, Berner.
Z-Man
Z-Man (given name Zamon) is an underground rapper and painter from the San Francisco Bay Area. He has released many full-length studio albums, several of which were self-recorded and released, and he has worked with numerous underground Bay Area rap legends.
He is a frequent collaborator with other artists in the Gurp City collective, composed of Sacred Hoop, Grand Invincible, G-Pek, Conceit, topr, MC Oroville and Bay Area legend Eddie Def.[1] He has also worked with Hieroglyphics Crew, Disflex.6, and Refill Records.
Z-Man is also a painter with a broad body of acrylic-on-canvas paintings that portray cartoon-style hybrid creatures in vibrant, bold color schemes that often have thematic references to black culture. He paints all of his album covers and T-shirt designs, and has painted and drawn many album covers for other hip hop artists.
Z-Man's first album appearance was in 1996, with his group 99th Demention, which consisted of Z, King Maz, Young Slim, Rated R, Rev Cope and P.B.F.-1. The group released one album and was compared to The Pharcyde early on.[2]
In 2003 and 2004 he released two solo albums produced by the Hieroglyphics label, Dope or Dog Food? and Anti-Nerd. In 2008 his group One Block Radius signed with Mercury/Island/Def Jam Records. In 2008, he signed as to San Francisco label Machete Vox Records, working on an album titled Six Pack Of Dynamite, produced by boac and Dnae Beats.
Along with his many collaborations he has also worked with Bay Area producer G-Pek and released two albums, 2008's Don't Forget to Brag and 2012's In Case You Forgot.
True Justice
DJ True Justice, aka The Man of Steel, has been a pioneer in the Bay Area Hip Hop scene since 1989.
Eva Rhymes
Eva Rhymes, formally known in Chicago and in Baltimore as Jinxxx was born with the exceptional ability to perform the arts of music. She is a fusion of Hip-Hop and soul hailing from the east with a growing reputation of bold, beautiful, beast on the mic. She focuses on current events and still gives back to her community. Her following is seen as a growing cult, labeled "weirdoz", she keeps it truest to send the message that we as people are all flawed but yet extraordinary individuals. She likes to tell stories and paint pictures through her rhymes. She is constantly a semi-finalist in songwriting competitions every year and has established herself as a selling songwriter in all genres. Currently on the brink of her third project "OdDWorld" Eva Rhymes is a professional class act for all your event needs. She also has a band |Weird-Dope| and likes to mix it up from time to time during live performances.
Eva Rhymes is energetic, eclectic, poetic and a deep artist of hip-hop. Walks the line of alternative hip-hop with the subjects that are addressed. Poetic sexy and intriguing female artist of great caliber looks to stomp stereotypes and create history.
Address:
8 E. Main St.
,
Cortez
,
Colorado
,
81321
,
United States
Description:

Located in the historic Basin Industrial Bank building adjacent to the KSJD radio studios in downtown Cortez, Colorado.