We're sorry, but all tickets sales have ended because the event is expired.
Sita Sings the Blues ~ Thursday August 16


August 16, 2018




7:00 pm - 9:00 pm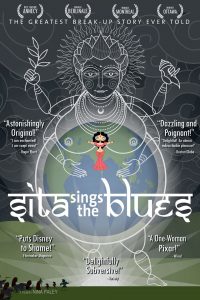 Thursday August 16
Show starts at 7pm
Doors open at 6:15pm
$7 online and at the door
~~~~~~~~~~~~~~~~~~~~~~~~~~~~~~~~~~~~~~~~
An animated version of the epic Indian tale of Ramayana set to the 1920s jazz vocals of Annette Hanshaw.
The movie is about Sita, the Hindu Goddess from the epic "The Ramayana", who accompanies Lord Rama on a 14 year exile in forest. Sita is abducted by Ravana, the ruler of Lanka. This movie tells the story of Rama and Sita, along-with a biographical account of the director's relationship with her husband.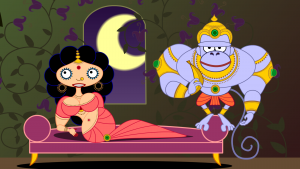 WHAT do a 3,000-year-old Sanskrit epic, a '20s-era jazz singer and Indonesian shadow puppets have in common? They're all part of the eclectic cultural tapestry that is "Sita Sings the Blues," an 82-minute animated feature that combines autobiography with a retelling of the classic Indian myth the Ramayana, and that required its creator, the syndicated comic-strip artist Nina Paley, to spend three years transforming herself into a one-woman moving-picture studio.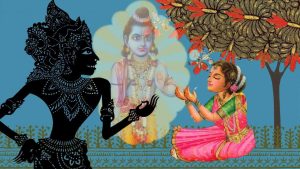 "At some point everything went through my computer," said Ms. Paley, who is self-taught and whose longest animated film before this — of a dog chasing a ball — clocked in at just over four minutes. Her decision to do it herself may have satisfied her creative urges, but it also put her more than $20,000 in debt. "That's why not everyone does it," she said.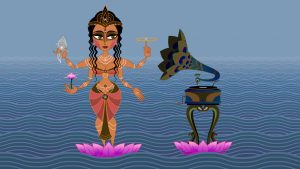 It's hard to imagine how Ms. Paley, 40, could have farmed out the writing, directing, editing, producing and animating of "Sita Sings the Blues." As engaging as the film is, explaining it is tricky: along with traditional 2-D animation there are cutouts, collages, photographs and scenes with hand-painted watercolors as the backdrop. At certain points Ms. Paley mixes laughs with exposition by having three flat silhouette characters dispute the details of the Ramayana's tragic saga of the Hindu goddess Sita, who is exiled by her husband, Rama, who fears she has been unfaithful after she is abducted by a demon king.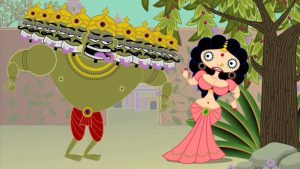 At other points Ms. Paley weaves in the story of her own collapsing marriage, and the time switches from ancient India to present-day San Francisco and Manhattan, the images hand-drawn and jittery. In between everything else are flash-animation musical numbers featuring Sita in voluptuous Betty Boop-like form — almond-shaped head, saucer eyes and swaying hips — accompanied by the warbling voice of a real-life flapper-era singer named Annette Hanshaw.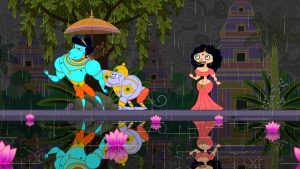 For fans of "Sita Sings the Blues" Ms. Paley's imaginative leaps and blend of styles are part and parcel of the film's visual and aural originality. "You can actually feel how much time went into it," said Alison Dickey, a film producer and one of the jurors who nominated Ms. Paley for Film Independent's Someone to Watch honor in 2009. "We see so many films, and when you come across one like this, you just feel like you've stumbled upon a gem."
– Margy Rochlan, New York Times
Address:
8 E. Main St.
,
Cortez
,
Colorado
,
81321
,
United States
Description:

Located in the historic Basin Industrial Bank building adjacent to the KSJD radio studios in downtown Cortez, Colorado.