We're sorry, but all tickets sales have ended because the event is expired.
Madeline's Madeline


April 18, 2019




7:30 pm - 9:30 pm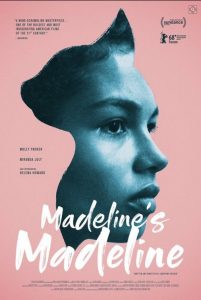 Thursday April 18
Starts at 7:30pm
Doors open at 7pm
$7 online and at the door
~~~~~~~~~~~~~~~~~~~~~~~~~~~~~~~~
Madeline got the part! She's going to play the lead in a theater piece! Except the lead wears sweatpants like Madeline's. And has a cat like Madeline's. And is holding a steaming hot iron next to her mother's face – like Madeline is.
Madeline (newcomer Helena Howard) has become an integral part of a prestigious physical theater troupe. When the workshop's ambitious director (Molly Parker) pushes the teenager to weave her rich interior world and troubled history with her mother (Miranda July) into their collective art, the lines between performance and reality begin to blur. The resulting battle between imagination and appropriation rips out of the rehearsal space and through all three women's lives.
Writer/director Josephine Decker has long been an independent filmmaker to admire, utilizing a welcome expressionistic approach that imbues her subjects with a vibrant sense of urgency. Anchored by a virtuoso performance from newcomer Helena Howard, whose powerful screen presence commands attention, Decker's film displays a rare sensitivity for capturing the messy struggles of discovering a sense of one's self that defies easy narrative categorization.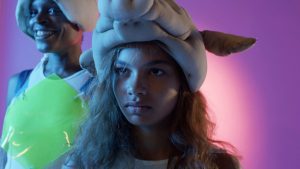 Directed by Josephine Decker
Written by Josephine Decker and Donna De Novelli
Cast
Helena Howard
Miranda July
Molly Parker
Okwui Okpokwasili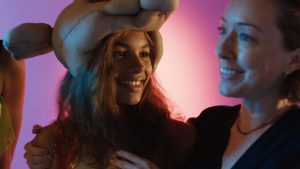 "An ecstatically disorienting experience that defines its terms right from the start and then obliterates any trace of traditional film language, achieving a cinematic aphasia that allows Decker to redraw the boundaries between the stories we tell and the people we tell them about. The result is an experimental movie with the emotional tug of a mainstream hit, a fragmented coming-of-age drama that explores the vast space between Hollis Frampton and Greta Gerwig in order to find something truly new and ineffably of its time."
David Ehrlich, INDIEWIRE – IW Critics Pick
"In her third film, writer-director Josephine Decker confirms her position as the American indie queen of improv, whose self-styled mission it is to push the outer limits of film language into the stratosphere."
Deborah Young, THE HOLLYWOOD REPORTER
"Among its other astonishments, Josephine Decker's new feature, MADELINE'S MADELINE, does something very simple: it dispels the shibboleth that movies spotlighting strong and original performances differ from ones that innovate at the level of cinematic style. MADELINE'S MADELINE does both, with equal intensity. Decker's film, in its dramatic contours, is an utterly clear and classical drama about a Queens family."
Richard Brody, THE NEW YORKER
"Josephine Decker pauses only to grapple with her own working methods in this thrilling, formally daring drama about an emotionally fraught teenage girl."
Paul O'Callaghan, SIGHT & SOUND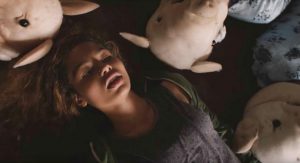 "Beautifully unwieldy, seemingly changing its editing, camera work and musical styles throughout, while telling a story that floats but is connected to the ground by a single thread. All the while, Howard is the center spectacle, and the movie plays like a fever dream inside her new, fascinating mind."
Nick Allen, ROGEREBERT.COM
"A drama of boundless spontaneity as Decker deftly examines mental illness and the potentially exploitative lines a performer may cross when pulling life into art."
Jordan Raup, THE FILM STAGE
"Helena Howard makes a wallop of a debut."
Amber Wilkinson, EYE FOR FILM
"Featuring a star-making turn from newcomer Helena Howard, Josephine Decker's film deconstructs the very nature of a closed work of art."
Bilge Ebiri, THE VILLAGE VOICE
Address:
8 E. Main St.
,
Cortez
,
Colorado
,
81321
,
United States
Description:

Located in the historic Basin Industrial Bank building adjacent to the KSJD radio studios in downtown Cortez, Colorado.