Luna Fest Film Festival


May 9, 2019




7:00 pm - 9:00 pm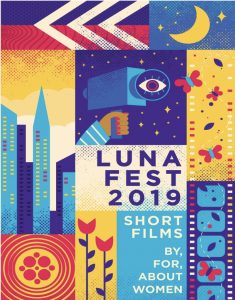 Thursday May 9
Starts at 7pm
Doors open at 6:30pm
$20 at lunafest.org
$25 at the door
~~~~~~~~~~~~~~~~~~~~~~~~~~~~~~~~
Join us as we empower women and raise awareness for breast cancer and the steps we can take to help protect ourselves. 100% of ticket sales and silent auction proceeds will go to Breast Cancer Prevention Partners ground breaking work, and help get local climber Katie Meyer to the top of Mt. Shasta!
The Films
FLIP THE RECORD
Marie Jamora, Los Angeles, CA, USA, 15 min
In this 1980s coming-of-age story set to pulsing hip-hop music, a Filipino-American teen discovers her identity through a budding talent for turntablism.
Marie Jamora (Writer, Director, Producer, Editor, Music Supervisor) is an award-winning filmmaker originally from Manila, Philippines. Her feature debut, WHAT ISN'T THERE (ANG NAWAWALA), premiered internationally at the Slamdance Film Festival and was nominated for 5 Gawad Urian Philippine Critics Awards. Other credits include Editor of the Showtime documentary THE DEATH OF SUPERMAN LIVES; WHAT HAPPENED?, Segment Producer for the LEGO web series THE BUILD ZONE, and Showrunner for the first season of PROJECT RUNWAY PHILIPPINES. Marie began her career as a music video and commercial director, directing over 45 music videos and many commercials for some of the world's biggest brands including Coca-Cola, Colgate, and Gillette. She received an MFA in Film from Columbia University. She is currently working on her first documentary, LEGIONS OF BOOM, which is fiscally sponsored by the San Francisco Film Society.
THE FINAL SHOW
Dana Nachman, Los Altos, CA, USA, 10 min
A woman who has lived a long life full of love and loss has to decide, based on all that she has learned, who to take along to eternity.
Dana Nachman's 2015 film BATKID BEGINS was bought and distributed by Warner Brothers. Previously, she wrote, directed and co-produced the documentaries WITCH HUNT, which was executive produced by Sean Penn and premiered at the 2008 Toronto International Film Festival; LOVE HATE LOVE, which premiered at the 2011 Tribeca Film Festival; and THE HUMAN EXPERIMENT, which screened at the IDFA Film Festivals. She has won a number of awards, including three regional Emmy Awards, and more than a dozen Jury and Audience Awards at film festivals. Born and raised in New York, Nachman earned her Master's Degree from NYU in Broadcast Journalism.
MY IMMIGRANT STORY
Yuriko Gamo Romer, San Francisco, CA, USA, 3 min
The hot-button issue of immigration inspired the director to reflect on her own path to American citizenship.
Yuriko Gamo Romer directed and produced the documentary about Keiko Fukuda (1913-2013), the first woman to attain the tenth-degree black belt in judo. MRS. JUDO has traveled to more than 25 film festivals internationally, broadcast on PBS nationally, and was awarded the Grand Jury Award for Best Documentary at the 2013 International Festival of Sport Films in Moscow. Currently, Romer is in production with DIAMOND DIPLOMACY, about the 145-year history of U.S. Japan relations through a shared love of baseball. Her thesis film OCCIDENTAL ENCOUNTERS won numerous awards, among them a Student Academy Award Gold Medal and Heartland Film Festival's Jimmy Stewart Memorial Crystal Heart Award. Romer was born in Japan and raised in the United States, and is bilingual. She holds a Master's degree in documentary filmmaking from Stanford University, where she was a she was a National Academy of Television Arts and Sciences Scholar, an American Association of Japanese University Women Scholar; and a BFA from UCLA.
WAR PAINT
Katrelle Kindred, Los Angeles, CA, USA, 17 min
A young black girl in South Los Angeles experiences a series of events that intersects racism and sexism during the Fourth of July holiday.
Katrelle Kindred is an award-winning director, writer, and producer. After teaching English Language Arts in Compton, CA, Kindred completed her graduate studies in Film Production at USC's School of Cinematic Arts. Her short film, SON SHINE (2013), played dozens of film festivals across the country, winning several awards including Best Narrative at the Humboldt International Film Festival; the San Francisco Black Film Festival's Ava Montague Award; and Best Actor at the Los Angeles Women's International Film Festival. Her producing work includes 2015's Student Academy Award Gold winner LOOKING AT THE STARS, and THE BIG CHOP (2016), which was optioned to HBO. In the future, Kindred would like to continue creating honest stories that focus on global, social issues and on people often unheard.
DRUMMER GIRL
Sophie Hexter, Bangalow, AU, 7 min
Losing her eyesight did not stop rock'n'roll drummer Renee Kelly from pursuing her passion. Moving between past reflections and future dreams, her story reveals a fervent and determined artist.
Sophie Hexter is a writer and director. Launching her career in media at Harper's Bazaar Australia, and The Age, she transitioned into filmmaking in 2014. Her debut documentary short, THE BATTLE, screened at over 30 international film festivals, including Cannes and Aesthetica. Her dramatic short HITCH premiered at Santa Barbara International Film Festival in the US and the St. Kilda Film Festival in Australia, and won the Audience Choice Award at Flickerfest. Her most recent short, DRUMMER GIRL, funded by Create NSW, was nominated for Best Documentary Short at Big Sky Film Festival in Montana, and screened widely in 2018. A 2017 Varuna Fellow, and 2018 Stowe Story Lab Fellow, Sophie has a BA from Monash University and an MA in Creative Writing from Oxford University.
ARE WE GOOD PARENTS?
Bola Ogun, Los Angeles, CA, USA, 9 min
When a couple's 14-year-old daughter says she's going to her first dance with her classmate, they question their preconceived notions of her sexuality and their openness as parents.
Bola Ogun is a first generation Nigerian-American, an alum of the University of North Texas, and based in Los Angeles. She was selected for the class of 2014 AFI Directing Workshop for Women and was one of the five filmmakers chosen for Robert Rodriguez's docuseries REBEL WITHOUT A CREW. Ogun's second short film ARE WE GOOD PARENTS? had its world premiere at South By Southwest, screened at Outfest, Urbanworld, Napa Valley, Edmonton International, and won top awards at AT&T's SHAPE Event. Her first short, THE WATER PHOENIX, screened internationally and Ogun has also written for Indiewire with a guest post titled "Enough with the 'Black Movies' Bring on the Black Mermaids," an essay on bringing intersectionality to Fantasy and Sci-fi films.
TODAY, TOMORROW, YESTERDAY
Jackie Files, Los Angeles, CA, USA, 6 min
While moving out of her childhood bedroom, a young woman finds her old diaries and learns to make peace with herself.
Jackie Files is a story artist, writer, and animator based in Los Angeles. She recently earned her BFA from California Institute of the Arts' Character Animation program, where she completed her senior film, TODAY, TOMORROW, YESTERDAY.  Jackie hopes to continue making films and telling stories. You can see more of her work at jackiefiles.weebly.com.
UR DEAD TO ME
Yonoko Li, Auckland, NZ, 10 min
If there's one thing Jordan knows from delivering dried bouquets, it's that while every relationship is different, they all share one thing in common: they end. In this wistful, humorous and eloquent commentary on relationships, Jordan learns about life, death, love, and loss.
Originally from Singapore, Yonoko Li is a writer and director based in Auckland, NZ, interested in the human condition and the female experience. She created UR DEAD TO ME to explore the theme of grief we experience when it comes to the dissolution of relationships. Rather than saving failing relationships, she explores a different perspective, one where the individuals involved are at peace and better for the loss. </title="#8></title="#7></title="#6></title="#5></title="#4></title="#3></title="#2>
Address:
8 E. Main St.
,
Cortez
,
Colorado
,
81321
,
United States
Description:

Located in the historic Basin Industrial Bank building adjacent to the KSJD radio studios in downtown Cortez, Colorado.