We're sorry, but all tickets sales have ended because the event is expired.
Hunting Lands ~ March 21


March 21, 2019




7:30 pm - 9:30 pm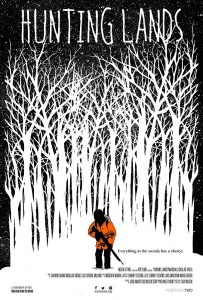 Thursday March 21
Starts at 7:30pm
Doors open at 7pm
$7
~~~~~~~~~~~~~~~~~~~~~~~~
Frank Olsen (Marshall Cook) lives in the woods away from people. He likes it that way, hunting deer and fending for himself among the quiet tranquility of nature. That is until an attempted murder near his hunting ground spurs him to try and save the victim's life (Keyna Reynolds) and also track and investigate her would-be killer (Joe Raffa). Cozying up to his quarry at a bar, Frank invites him out for a deer hunt, having an ulterior motive.
Shot in the wilds of Northern Michigan, director Zack Wilcox obviously takes inspiration from The Deer Hunter. Wilcox's vision is firmly planted among the auteurs of yore, though while visually he channels Michael Cimino and the likes of Nicolas Roeg and Peckinpah, his true muse, as is the case with so many film students and cinephiles, is Alfred Hitchcock.
Hunting Lands has a smart, self-aware script and is directed in the refreshing fashion of an upscale thriller from the 70s, in what may be the best-looking indie feature shot and set in Michigan. The film made the festival circuit where it was met with rewards and accolades – the film won Best Screenplay and Best Picture at the Idyllwild International Festival of Cinema.
Story by: 
Zack Wilcox, Josh Amato
Producers: 
Zack Wilcox, Cory Pyke
Starring
Marshall Cook
Joe Raffa
Keyna Reynolds
Kaleb Rittenhouse
Brooke Mulkins
https://www.youtube.com/watch?v=SVD8O6ppj8o
Address:
8 E. Main St.
,
Cortez
,
Colorado
,
81321
,
United States
Description:

Located in the historic Basin Industrial Bank building adjacent to the KSJD radio studios in downtown Cortez, Colorado.