We're sorry, but all tickets sales have ended because the event is expired.
Fat City ~ Thursday March 15


March 15, 2018




7:00 pm - 9:00 pm
The Sunflower Theatre
and
Cortez Public Library
present
Thursday March 15 ~ 7pm
$5 donation suggested at the door
~~~~~~~~~~~~~~~~~~~~~~~~~~~~~~~~~~~~~~~
John Huston made some outstanding films, among the best were The Maltese Falcon, The Treasure of the Sierra Madre, The Asphalt Jungle, The African Queen and The Red Badge of Courage. But best of all, though by no means the most popular because of its downbeat tone, was Fat City, the tale of a broken-down boxer, played by Stacy Keach.What fascinated Huston, once an amateur boxer, was those on the bottom rungs of a dangerous profession. Keach is Billy Tully, a 29-year-old who lost the biggest fight of his career and then his wife before slipping into alcoholism. Now he is contemplating a comeback.
When he meets a promising teenager (Jeff Bridges), he encourages him to sign up with his old manager and begins to live through him. But the downward spiral continues.
The setting – the tenements and bars inhabited by those who have failed but still cling to their illusions of success – is beautifully done. Based on the book by Leonard Gardner, Huston focuses on the loneliness of the long-distance survivor. Tully is a man who can't have effective relationships nor get his life sorted out. He lives in a fantasy world full of might-have-beens. Keach's performance is well matched by Susan Tyrrell as the fellow alcoholic who has taken up with him.
Fat City ends on a note of hope when the boxer gets himself together enough to return to the ring and triumph. But even then Huston undercuts the triumph by showing us not just that our "hero" is so exhausted that he has to be told he has won, but that the loser may well become another Billy Tully.
Besides, this is only one fight – a first and probably last step on the road to full recovery.
As much as anything, it is the accuracy of this microcosm of the world that is so impressive, and Huston's sympathy with his motley characters.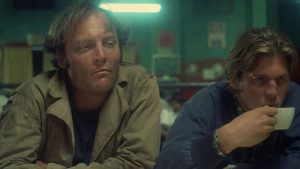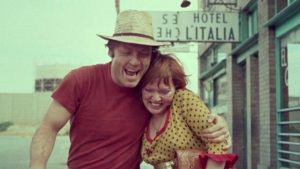 Address:
8 E. Main St.
,
Cortez
,
Colorado
,
81321
,
United States
Description:

Located in the historic Basin Industrial Bank building adjacent to the KSJD radio studios in downtown Cortez, Colorado.