Every Brilliant Thing ~ Tuesday November 12, 7pm


November 12, 2019




7:00 pm - 9:00 pm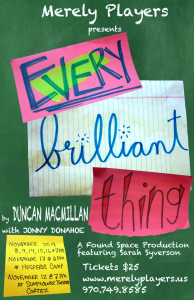 Tickets are $25 at https://merelyplayers.us/
Doors open at 6:30 pm
970.749.8585
~~~~~~~~~~~~~~~~~~~~~~~~~~~~
"I'm making a list of a thousand Brilliant Things. I'm not certain but I think I might be a genius." 
You're seven years old. Your Mom's in the hospital because "she's done something stupid." So you start making a list of everything that's brilliant in the world. Everything that's worth living for. Throughout your life, you add to the list. And you hope.  Local favorite Sarah Syverson appears in this poignant, uplifting one-woman show. Another Merely Players regional premiere, Duncan Macmillan's play illuminates the darkness of depression, pairing it with the notion that joy can be as contagious as despair.  Our found space production of the year is unflinchingly honest and gloriously funny; it will continue to move you and make you think long after it ends. 
BACKGROUND: Suicide is the tenth leading cause of death in the United States. In 2017, over 47,000 Americans took their own lives. The national suicide rate has been rising steadily since the mid-2000's. However, the increase in suicide rates is not distributed equally among regions, or demographic groups. The suicide rate in Colorado is higher than the national average.  In La Plata County, the rate is double the rate nationally.
Experts cite these contributing factors:
*depression (nearly 7 percent of the population at any given time), anxiety, substance abuse
*high cost of living, scarcity of good jobs, financial stress. 
*fewer mental health resources than found in a big city
*easy access to guns, due to local culture
*the play-hard, party-hard vibe in idyllic mountain towns that can lead to substance abuse, as well as social media, the culture of athletic one-upmanship, and the obsessive pursuit of fun.  
La Plata Suicide Prevention Collaborative (part of San Juan Basin Public Health) continues its efforts to reduce suicides in the region and is working with partners on both immediate and long-term efforts:
1. Promoting the Let's Talk campaign – mental health stigma reduction campaign to promote conversation, and provide resources to those struggling with mental health challenges.
2.  Providing Brief Suicide Intervention Training (BSIT) – training for non-experts interested in learning how to intervene with someone who might be suicidal.
3. Building suicide awareness – ongoing sharing of information through various communication channels and outreach efforts to educate residents on available resources and suicide prevention information.
4. Collective Impact Suicide Prevention Process – a community-based, multi-sector process to reduce the suicide rate in the region through aligned agendas and strategic planning.
PROJECT: Theatre reflects humanity; it reaches people in a unique way as they relate to the story presented onstage through both collective and individual experience. Through presenting a well-written script with high-level acting, Merely Players plans to become a part of the suicide awareness and solution to the problem that is plaguing SW Colorado. 
Address:
8 E. Main St.
,
Cortez
,
Colorado
,
81321
,
United States
Description:

Located in the historic Basin Industrial Bank building adjacent to the KSJD radio studios in downtown Cortez, Colorado.