We're sorry, but all tickets sales have ended because the event is expired.
Duranium ~ Short Film & Panel Discussion


September 28, 2018




7:00 pm - 8:50 pm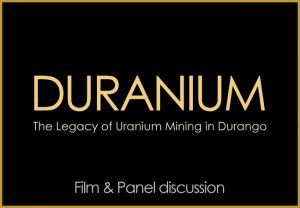 Friday September 28
7pm
Doors open at 6:30pm
Free ~ $5 donation requested at the door
~~~~~~~~~~~~~~~~~~~~~~~~~~~~~~~~~~~~
America's explosive successes in peace and war were fueled by the radioactive wealth from the Colorado Plateau. The mineral carnotite was a "Pandora's rock" of scientific, medical, industrial, and military power for 20th Century America with its unleashed resources of radium, vanadium, and uranium. Even though the energetic and frenetic mining and refining of uranium ore in Western Colorado has mostly ceased, its remaining trace elements of memory and controversy still radiate from Uravan and Grand Junction throughout the state, the nation, and the world.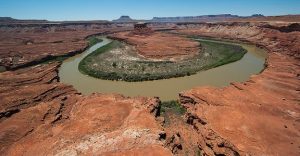 RMPBS and Fort Lewis College's Journalism & Multimedia Studies program produced the 9 minute film "Duranium: The Legacy of Uranium Mining in Durango," for the program Colorado Experience on Rocky Mountain PBS in 2017.
"This project has proven itself to be a very innovative and ambitious endeavor," said Stacey Sotosky, an assistant professor who teaches digital video production at Fort Lewis. "I'm very proud of the work we've accomplished in the last seven weeks. It's been a very unique classroom experience for all."
Sotosky said her class of about 16 students experienced a new process in the making of "Duranium: The Legacy of Uranium Mining in Durango."
"There were twists and turns along the way, and we adapted to the story as it evolved," Sotosky said.
On top of the guidance by Sotosky, students also had the benefit of learning from award-winning documentary flimmaker Carol Fleisher, who is based in Durango and has had her work appear on PBS, NBC and National Geographic, among others.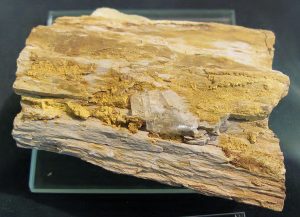 The film is 10 minutes long.
There will be a Q&A following the film with Stacey Sotosky and some of the student filmmakers.
~~~~~~~~~~~~~~~~~~~~~~~~~
Following the Q&A, there will be an interview with Professor Brad Clark about his forthcoming book
Gold Metal Waters: The 2015 Gold King Mine Spill
Dr. Brad Clark is an associate professor in the Department of Political Science at Fort Lewis College. He joined the College as a visiting lecturer in 2006 and became an assistant professor of Political Science in 2007. Prior to joining the college, Dr. Clark was an instructor of Public Policy for the New Directions in Politics and Public Policy Masters Degree Program at the University of Colorado and an instructor of Political Science at Colorado State University.
Clark earned a Ph.D. in Political Science from Colorado State University in 2007 with a focus on American Politics, Public Administration and Policy, U.S. Environmental Politics and Western U.S. Water Policy. His Ph.D. dissertation was titled "River Restoration and Dam Removal in the American West: An Examination of Policy Change across Political Jurisdictions."
Dr. Clark has published in the Environmental Practice Journal, Society and Natural Resource Journal, and Social Science Journal. Professional activities include presenting annually since 2000 at conferences across the United States and Canada including the Western Political Science Association Conference, the Water Resources Conference of the American Water Resources Association, and the Southwestern Social Science Association Conference.
He is a member of the Advisory Consortium and Selection Committee for the Bert and Phyllis Lamb Prize in Political Science, served as Chair of the Panel on "Politics and Work," at the Annual Conference of the Western Political Science Association in 2016, and has served as a peer reviewer for the Political Research Quarterly since 2006. Clark was nominated for Fort Lewis College's Alice Admire Outstanding Teaching Award in 2016, received the Charles Redd Award for Best Paper on the American West at the Annual meeting of the Western Political Science Association in 2013, and was awarded a Faculty Development Grant for Traditional Scholarship in 2011.
Dr. Clark's professional memberships include the Western Political Science Association and the Colorado Foundation for Water Education.
Address:
8 E. Main St.
,
Cortez
,
Colorado
,
81321
,
United States
Description:

Located in the historic Basin Industrial Bank building adjacent to the KSJD radio studios in downtown Cortez, Colorado.