2019 Best of the Fest ~ DIFF ~ Friday April 26, 7pm


April 26, 2019




7:00 pm - 9:00 pm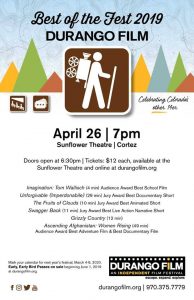 ~~~~~~~~~~~~~~~~~~~~~~~~~~~~~~~~~~~~~~~~~~~
Purchase tickets at durangofilm.org
A few of the films in the lineup!
IMAGINATION: TOM WALLISCH
From the boredom of the backseat of his parents' station wagon, a young skier imagines the passing front-yard snow piles and sloping roofs as suburban ski terrain. His daydream suddenly springs to life as freeskier Tom Wallisch flies over Airstreams and garbage cans, and down the steps and rails of Nelson, British Columbia, sparks flying when his skis meet pavement. Imagination is an homage to the late Canadian freeskier J.P. Auclair's iconic street segment from the film All.I.Can. (Mountainfilm 2011), which proves with a little snow and creativity anything is possible.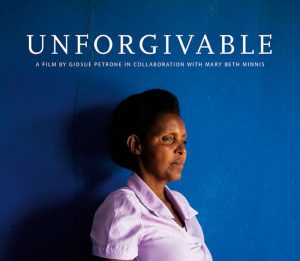 Country:  Italy 
|

 USA 

|

 Rwanda / Duration : 29 minutes

Unforgivable explores the relationship between Alice, a Tutsi woman who lost her child and her hand in the genocide against the Tutsi in 1994, and Emmanuel, the Hutu man who attacked her and her family. After serving his prison term, Emmanuel seeks out Alice and confesses to being the one who cut off her hand.

Alice extends him forgiveness and together, they run the Ukuri Kuganze Association, providing housing and counseling for genocide survivors and facilitating reconciliation between them and their former attackers.

FRUITS OF CLOUDS
Directed by Kateřina Karhánková
Czech Republic | 10 minutes | 2017
On the glades surrounded by dark woods, Furry together with a group of friends, live in the burrows. They feed themselves only by seeds which became glowing fruit after touching the ground. However, these appear only rarely. The animals' fear of the wood does not allow them to leave the glade and head off to look for the food somewhere else. Instead, they resignedly wait until it falls from the sky. Furry does not want only to wait. The wood awakens curiosity in him. He wants to know, what is hiding in there…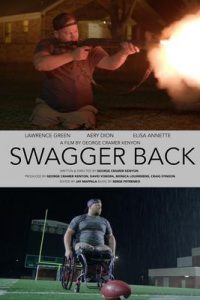 Director:  George Kenyon  /  11 minutes  /  USA
A veteran who lost both his legs in combat struggles to regain his footing in life.
Grizzly Country
a film by Ben Moon and Peak Design /  11 minutes
After serving in the Vietnam War, author and eco-warrior Doug Peacock spent years alone in the Wyoming and Montana wilderness observing grizzly bears. This time in the wild changed the course of his life. With the protection of Yellowstone grizzlies now under threat, Peacock reflects on the importance of habitat and why he continues to fight for wild causes.

ASCENDING AFGHANISTAN: RISING WOMEN
Director: Erik Osterholm / Afghanistan | 120 MIN
'Ascending Afghanistan: Women Rising' follows a group of 16-19 year old Afghan girls as they try to become the first female Afghan mountaineering team. It is a powerful and eye opening story of a group girls as they try to re-represent what it means to be a woman in an extremely restrictive culture. Its both beautiful and uplifting as well as sad and dis-heartening… it is a window into life in Afghanistan.
Warning – This film contains graphic content.
Address:
8 E. Main St.
,
Cortez
,
Colorado
,
81321
,
United States
Description:

Located in the historic Basin Industrial Bank building adjacent to the KSJD radio studios in downtown Cortez, Colorado.