We're sorry, but all tickets sales have ended because the event is expired.
Dr. Strangelove ~ thursday August 23, 7pm


August 23, 2018




7:00 pm - 9:00 pm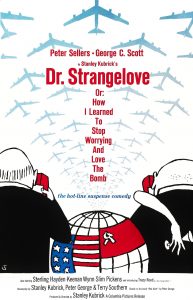 Thursday August 23
Starts at 7pm
Doors open at 6:15pm
$5 online and at the door
~~~~~~~~~~~~~~~~~~~~~~~~~~~~~~~~~~~~~~~~~~
A nuclear-age parable of unmatched film-historical importance and generalized hilarity, Kubrick's vision of the day before doomsday remains frightening—and side-splitting—over fifty years after its original release.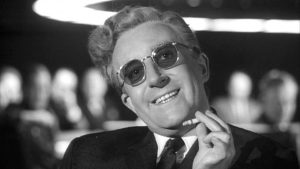 When über-patriotic General Jack D. Ripper (Sterling Hayden) decides, of his own accord, to launch a nuclear attack against the Soviet Union without a war order, jittery British Colonel Mandrake (Peter Sellers) must try to stop him; simultaneously, Major "King" Kong (Slim Pickens) commands the aircraft with the warhead as the plane hurtles toward its destination; finally, in the "war room," president Merkin Muffley (Sellers again) presides over the negotiations with the Soviets, fending off the xenophobic strategies of General Buck Turgidson (George C. Scott) and the very troubling theories of his "scientific" advisor Dr. Strangelove (Sellers #3).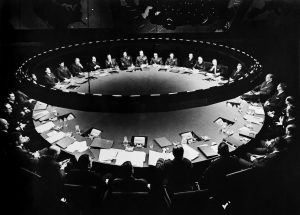 Perhaps Kubrick's greatest and most lasting creation, Dr. Strangelove is at base a film about the dangers of unchecked machismo in the war room and on the battlefield, where there is no room for error. "Half a century after Stanley Kubrick unleashed his most perverse provocation (about a bombing run no one can stop), it's amazing that we're even here to see it. By a whopping margin, this is Kubrick's most radical film and greatest dramatic gamble."
—Joshua Rothkopf, Time Out New York.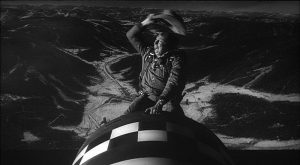 Produced and Directed by Stanley Kubrick
Screenplay by Stanley Kubrick, Terry Southern and Peter George
Based on the book Red Alert by Peter George
Starring
Peter Sellers
George C. Scott
Sterling Hayden
Keenan Wynn
Slim Pickens
Tracy Reed
Columbia Pictures, 1964
94 minutes
Address:
8 E. Main St.
,
Cortez
,
Colorado
,
81321
,
United States
Description:

Located in the historic Basin Industrial Bank building adjacent to the KSJD radio studios in downtown Cortez, Colorado.