We're sorry, but all tickets sales have ended because the event is expired.
Die Hard


December 13, 2019




7:00 pm - 9:00 pm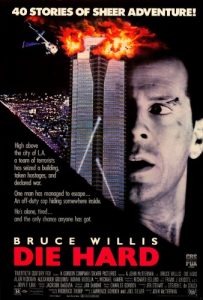 Friday December 13
Starts at 7pm
Doors open at 6:30pm
$7
~~~~~~~~~~~~~~~~~~~~~~~~~~~~~~~~~~~~
7 reasons why Die Hard is a Christmas movie
By Terry Terrones
Written December 16, 2018
A heated debate takes place every year around Christmas time. It's not about which relatives house you should visit for the holidays, it's a topic with greater importance. It's a question everyone wants to know the answer to but can't seem to agree on. Is the 1988 film "Die Hard," starring Bruce Willis, a Christmas movie?
Yes, it is. That's the simple answer, at least according to a poll I posted on Twitter recently. The results of the poll, in which nearly 100 people voted, revealed that 79% of people believe "Die Hard" is indeed a Christmas movie.
I can understand why some people might think that is a ridiculous statement. Most movie goers recognize "Die Hard" as an action film. It has an action star as the lead, gunplay galore, and the movie came out in July, which is prime action film season. So how in the world can this film be a Christmas movie? Because the evidence for it being exactly that is overwhelming. Here are seven examples.
1. It takes place during a holiday office party – A lot of crazy shenanigans happen at holiday Christmas parties, at least according to Hollywood. Hans Gruber crashing your shindig is evidently one of the things to be worried about in December. But think of it this way – would any of the events that took place at the Nakatomi Plaza occur if it weren't during Christmas? Hans, Fritz, Marco, Theo, and friends needed executives to be around and security to be loose in order for their plan to work. Offices don't hold parties like this any other time of the year.
2. It has Christmas music – The "Die Hard" soundtrack is loaded with Christmas songs. "Winter Wonderland," "Let it Snow!," "Christmas in Hollis," and "Ode to Joy" are all on the soundtrack and make appearances in one form or another in the film.
3. John's wife has a Christmas-y name – She may not use the last name McClane, but Mrs. Gennaro's first name doesn't get much more festive than Holly.
4. There are presents involved – John's LA cop buddy Al buys snack cakes for his pregnant wife at a convenience store, Harry Ellis gives Holly a Rolex watch as company present, and the FBI gifts Hans Gruber with access to the Nakatomi vault after shutting off a local power grid. Even John's gun is (kind of) gift wrapped in his final showdown with Hans.
5. Santa Claus (sort of) makes an appearance – You might remember that the first person John takes out is Tony, as they stumble down a flight of stairs during a fight early in the film. John sends Tony's body down to Hans in an elevator, wearing a Santa hat and the message of "Now I have machine gun. Ho, ho, ho" on his shirt. John McClane has holiday spirit no matter the situation.
6. It snows at the end – The last time it snowed in Los Angeles was 1962! But what better way to end a Christmas movie than with a little bit of snowfall.
7. The stats don't lie – According to a press release last year from DISH Network, 1.3 million Americans watched "Die Hard" on Christmas Eve in 2016. That beat out traditional holiday favorites "Home Alone," "Miracle on 34th Street," and "The Santa Clause."
Yippee-ki-yay! Its official, "Die Hard" is a Christmas movie. Feel free to use these talking points should anyone say otherwise. Merry Christmas!
Address:
8 E. Main St.
,
Cortez
,
Colorado
,
81321
,
United States
Description:

Located in the historic Basin Industrial Bank building adjacent to the KSJD radio studios in downtown Cortez, Colorado.