By Any Memes Necessary ~ Holiday Edition


November 22, 2019 - November 23, 2019




7:00 pm - 9:00 pm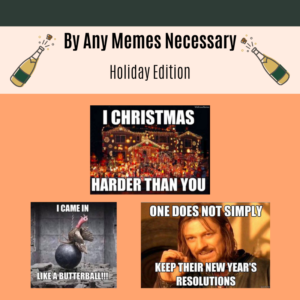 Game Night
Friday November 22, 7pm
At the door
$5 per person / $20 per team of four or more
~~~~~~~~~~~~~~~~~~~~~~~~~~~~~~~~~~~~
Do the holidays get you down?  Want to lambast / laugh at / skewer this season of family, feuds, and food.  Join us for game night, the Friday before Thanksgiving, for 11 rounds of snappy quotes and unfortunate holiday visuals you won't be able to unsee.
The rules are simple. Each round, three judges will play a Photo Card on the projected screen and teams or individuals play a Caption Card to complete the meme. The judges decide the funniest pairing, and whoever played the winning Caption Card wins the round.  Each team will be given five wild cards to fill in the caption of their choice (after that, another wild card can be purchased at $5 per card).  Once a team delivers a Caption Card to the judges, they can only exchange it by buying a new card for $10.
The top two teams or individuals who win the most rounds get a prize!  So get your favorite game night compatriots together and we'll find a memes to an end.   Or just come and observe and try to find the memeing of the holidays.
Address:
8 E. Main St.
,
Cortez
,
Colorado
,
81321
,
United States
Description:

Located in the historic Basin Industrial Bank building adjacent to the KSJD radio studios in downtown Cortez, Colorado.