Auditions ~ The Complete History of America (abridged)


May 17, 2019 - May 18, 2019




6:00 pm - 12:00 pm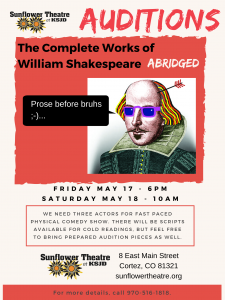 ~~~~~~~~~~~~~~~~~~~~~~~~~~~~~~~~~~~~~~~~~~
ALL 37 PLAYS IN 97 MINUTES!
WRITTEN BY ADAM LONG, DANIEL SINGER AND JESS WINFIELD
An irreverent, fast-paced romp through the Bard's plays, The Complete Works of William Shakespeare (abridged) was London's longest-running comedy! Join these madcap men in tights as they weave their wicked way through all of Shakespeare's Comedies, Histories and Tragedies in one wild ride that will leave you breathless and helpless with laughter.
"A madcap condensation that features non-stop laughs. Done at a whirlwind pace and with great delight, they are sure to win over even the most skeptical. And there is no doubt that William Shakespeare himself… would approve." Daily Variety
"If you like Shakespeare, you'll like this show. If you hate Shakespeare, you'll  love this show!" The Today Show
"Stupendous, anchorless joy!" The London Times
"Wildly funny. Masterful!" Los Angeles Times
"The funniest show you are likely to see in your entire lifetime." Montreal Gazette
"Shamelessly heretical!" Time Out – London
"Gloriously, relaxingly funny." Financial Times
"Shakespeare as it was back in the Bard's day: bawdy, irreverent, sublimely entertaining." Miami Herald