Be sure to read our
Ticket Info
before purchasing your tickets.
David Starr


March 14, 2020




7:00 pm - 9:00 pm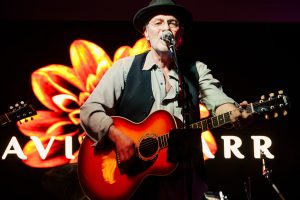 Singer/Songwriter
Saturday, March 14, 2020
Doors 6:30pm/Show 7pm
Tickets $18 advance/$20 at the door
Seated Event
                                                                        ***************************************
David Starr possesses "a compelling voice, something truly special, both accessible and passionate" that has been honed releasing nine albums, touring internationally, and opening shows for esteemed artists such as John Oates (Hall & Oates), Karla Bonoff, The Steel Wheels, Survivor, and more.
Beauty And Ruin, Starr's latest project, is a musical and literary adventure, produced and arranged by John Oates and co-produced by himself and David Kalmusky. The collection of songs was inspired by "Of What Was, Nothing Is Left," a novel written by his grandfather in 1972. "It is like watching a movie," says Oates. "The cinematic aural landscape visually evokes a classic tale of tragedy, love gone wrong and an exploration of human nature and all its flaws." Beauty and Ruin and a new edition of Of What Was, Nothing Is Left are set for release in February 2020.
Starr will be playing songs from Beauty and Ruin at the Sunflower Theatre, as well as other music he has written and recorded.
Click here for more.
Check out some of David's work.
David was recently featured in Billboard Magazine  with this video, Road to Jubilee.
More music here.