American Values, American Wilderness


July 12, 2019




7:30 pm - 9:00 pm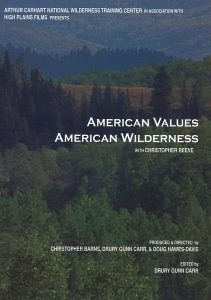 Friday July 12
Starts at 7:30pm
Doors open at 7pm
Free (by donation)
~~~~~~~~~~~~~~~~~~~~~~~~~~~~~~~~~~~~~~~~~~~~~~~~
In American Values: American Wilderness, a diverse group of Americans, including a teen-aged daughter of Cambodian refugees, a children's book author, a cancer survivor, a Native American tribal chairman, inner city children, and the late Christopher Reeve, among others, share their values for wilderness.  Their experiences and hopes are interspersed with photography of the beautiful wild lands that have captured their hearts. A labor of love for Christopher Reeve, the actor donated his time and energy to this film — his last on-screen appearance before his death in October 2004.
 This documentary was filmed at the time of the 40th anniversary of The Wilderness Act in 2004. Christopher Reeve poignantly sums it up: "What will the next 40 years bring to these increasingly precious lands? What will we Americans pass on to our children? That is up to you. It's been a while since I was in a wilderness. It might take a bit longer before I do get to go back to one. But even if that never happens, I will always value wilderness."
Join us for a Q & A with the filmmaker Christopher Barns after the film.
~~~~~~~~~~~~~~~~~~~~~~~~~~~~~~~~~~~~~~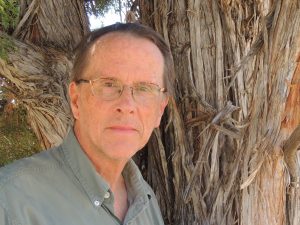 Christopher Barns
Chris retired as a wilderness specialist for the Bureau of Land Management in 2015.  The last 15 years of his career were spent as the BLM Representative at the Arthur Carhart National Wilderness Training Center in Missoula Montana, where he trained wilderness managers from all four federal wilderness agencies, co-authored various tools and publications on how to preserve wilderness character, and was the lead author of the BLM's 2012 wilderness policies.  He wrote and directed the 2004 film, American Values: American Wilderness, and  was a keynote speaker at the 50th anniversary celebration of the Wilderness Act in 2014 ("Have We Heard the Chimes At Midnight?" available on YouTube).  Since retirement Chris has co-authored several law journal articles — the most notorious of which is Fish and Wildlife Management on Federal Lands: Debunking State Supremacy, whose publication the Forest Service tried to block.
Chris and his wife, Kathleen Stachowski, moved here in 2017.  They volunteer for Canyons of the Ancients National Monument and Mesa Verde National Park.
Address:
8 E. Main St.
,
Cortez
,
Colorado
,
81321
,
United States
Description:

Located in the historic Basin Industrial Bank building adjacent to the KSJD radio studios in downtown Cortez, Colorado.